Parot CK3200 LS-COLOR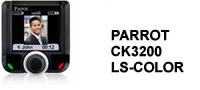 Introducing the first Bluetooth hands free car kit with a color LCD
Select one of the color wallpapers and hifi ringtones available to personalize your kit.
Store and access your phonebook
Your contacts are stored in the memory of the Parrot 3200 LS-COLOR. The voice recognition feature enables numbers to be dialed automatically by stating the contact's name: "Call John." If photos are stored and sent with your phone contacts, they can be displayed on the screen.
Voice recognition
Voice recognition up to 150 names
New Parrot universal mute cable
The new Parrot universal mute cable comes with an additional adapter for any car brand. Please visit our web site for car models details. An added bonus is the new Parrot control module which can be updated without removing it.
Take advantage of a universal Bluetooth solution
100% Bluetooth enabled, compatible with virtually all Bluetooth phones on the market. Please refer to the Phone Compatibility can be checked by us.